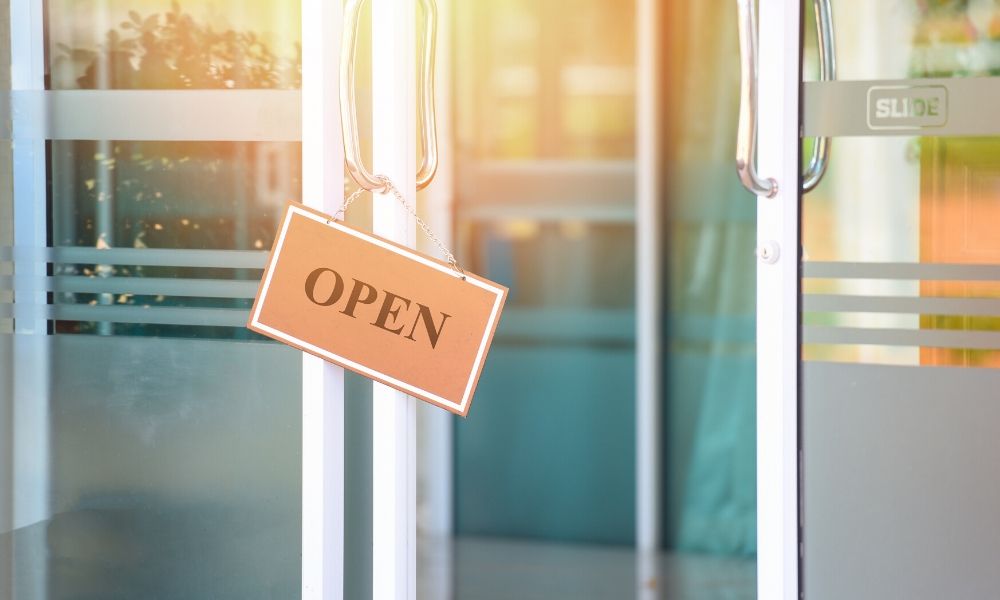 Signage is one of the most important components of customer acquisition and retention. They lend to communication, which is key in all aspects of life but especially in a business setting. Customers like to know what is going on in a store so they can better navigate the storefront themselves and find the best products and deals available. Signage helps to direct people into your store and even allows them to navigate it once inside. It is the single best form of communication you can give your customers before they enter your shop. Check out these different types of outdoor business signs to learn which ones might be the most beneficial to your business.
Pole signs
Pole signs are one of the most common in businesses that reside in cities and suburban areas with high foot and car traffic. Posting signs to poles near your business can help to guide people to your storefront and inform them about what kind of store you run and what products or services you offer. There are tons of reasons to put up pole signs—they elevate your company name and allow potential customers to spot it from a distance. This can help those looking for your shop navigate their way to you, even in confusing traffic patterns. It can also help to inform nearby people that your store is there, open, and ready for their business.
Wall signs
Wall signs are another common form of signage businesses in many industries may use. Putting up a sign on your business's wall can help current and potential customers to identify your shop and navigate the area. Wall signs that are large and attractive can draw customers to look in your shop windows and decide whether to come in and browse your selection for a while. They are an ideal gateway to increased foot traffic and, ultimately, increased impulse purchases, which are truly the key to business growth and increasing sales in retail and similar industries. Wall signs are one-time investments that pay off greatly for most businesses and are particularly useful for businesses in strip malls, high foot traffic areas, and urban areas.
Window signs
Window signs are popular in grocery stores, small niche stores, and large department stores. They are one of the most versatile signs available. Installing a window sign is easy—all you need is a quality window sign holder. Window signs are one of the most convenient types of outdoor signs you can invest in for your business. It is easy to change the content whenever you wish to display new and updated information; the holder remains while you can change out the actual sign it holds. Window signs are a great choice for all businesses, especially those in areas with high foot traffic such as in cities, suburban shopping centers, and other similarly located shops. Window signs are super popular due to their versatility and ease of use. With pole signs and wall signs, the commitment to the information you provide is more long-term, as they are harder and more costly to change, while window signs are simple and cost-effective to switch out.
Awning signs
Awning signs are a staple among most businesses. They are attractive and informative while serving the purpose of shade, cover, and identification. Awning signs are signs incorporated right into the awning of your business. Awnings extend over your storefront to call attention to your store. Most companies that employ awning signs include their business name, contact information, and logo. These simple signs are incredibly effective and almost expected by most consumers. They help to distinguish your business from the building it's housed in and helps consumers to identify your business name from a distance. Bright colors are ideal for food stores, grocers, and some restaurants, while retail shops and upscale restaurants may want a neutral color. These types of signs are great for all areas and will be sure to grab the attention of passersby and loyal customers alike.
Sidewalk signs
Sidewalk signs are the perfect signage option for stores in ultra-urban areas, indoor and outdoor shopping malls, and strip malls. They communicate effectively with consumers when they are close enough to your store's entrance to make the impulse decision to go inside and check out your deals. Store owners will typically prop up sidewalk signs on sidewalks and just outside of storefronts. They work well to communicate current sales, promotions, deals, and trendy product offerings. Their main purpose is to drive customers inside the store to shop.
Vehicle signs
Vehicle signs are decals and paint jobs applied to vehicles that advertise your business. These are costly because you either need to invest in your own vehicles and hire people to drive them around or consistently pay vehicle owners to advertise your business. These types of signs best serve businesses that make regular deliveries and already have a few (or a fleet of) vehicles in use, such as flower shops, catering companies, restaurants that offer delivery, furniture shops, and more.
Directional signs
Directional signs help people who are already looking for your shop to find it. These signs are best for businesses in less than ideal locations that aren't visible from main roads, hard to get to, or otherwise get calls asking for directions often. Directional signs literally point people to your entrance so they can more easily find your store. The shopping experience starts on the customer's journey to your door, and the experience can suffer if they end up lost or turned around on the way to your store. Directional signs make the journey less stressful so that customers can enjoy their experience at your store.
Monument signs
Monument signs are a less common form of signage. These types of signs are extremely large and stem from the ground reaching upward. They typically include the company name and contact information, sometimes featuring a logo and slogan. Monument signs are most useful for distribution centers, warehouses, manufacturers, and major big-box retailers. They identify the building, help those wishing to navigate to it, and show the prosperity of a business.
For all your signage needs, contact The Global Display Solution today. We carry a wide range of products to get your business noticed.