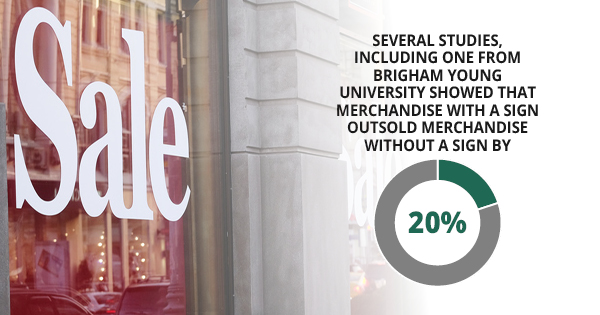 According to a 2014 Mass Merchant Study, 16% of unplanned purchases were due to a display noticed while shopping. That means it's up to you to organize a creative retail space that draws customers' attention to the best products available. Fortunately, acrylic display stands are a low-cost solution that's incredibly versatile as well. Here's what your retail business should know about taking advantage of acrylic poster frames and other advertising materials for marketing purposes.
Transparency

Several studies, including one from Brigham Young University, showed that merchandise with a sign outsold merchandise without a sign by 20%. Not only are acrylic poster frames and materials great for displaying any message, but they're also transparent so that they don't obstruct the customer's view. Transparency actually makes any sign easier to read -- even more so than traditional plate glass, which can take on a dark tint at its edges.


Strength and Durability

The cost to reach 1,000 adults for a sign or a store merchandiser with a life of one year was between 3 cents and 37 cents, compared to $4.05 to $7.75 for a 30-second commercial. Fortunately, acrylic pedestal display stands are incredibly affordable and durable for all types of signage-based applications. But they're also lightweight, making for the perfect balance of utility and strength. They're not difficult to relocate, unlike some bulky glass signs. Although acrylic does scratch easier than glass, it's easy to keep clean and scratch-free.


Versatility

Full priced merchandise performed 18% better with signage than without. That being said, acrylic signage has more versatility than many other types of sign material would normally provide. As mentioned, they can be relocated easily due to their lightweight material, and their messages are just as versatile. They typically are available with either square or rounded corners, and when combined with poster holders and other advertising material, they give your retail space a major aesthetic and practical boost.


On average, consumers are exposed to 3,000 ads and promotional messages every day. Knowing how to use these materials efficiently can help you stay on top of your business's retail display needs. For more information about poster holders, contact The Global Display Solution.