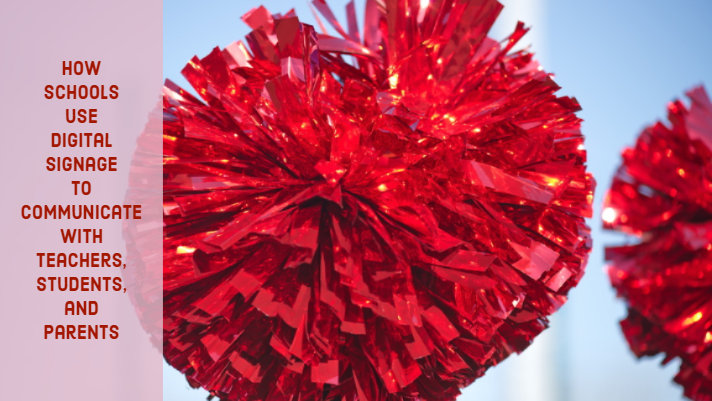 Schools today have a lot of ways in which they can communicate with the teachers, students, and parents in their system. In addition to traditional signs, they have digital signage and social media outlets. Here are some of the ways digital display stand with signs can be used to convey information to all three of its audiences.
How Digital Signs Are Used to Communicate with Teachers
Many teachers think of the digital signage inside and outside of the school as a kind of public intranet. School administrators use these to post meeting times, key deadlines, paperwork information, and other messages they need to reach the educator. They also use them to show their appreciation for the hard work the teachers do. Placing these message on digital towers can do a lot to make teachers and staff feel that their hard work is being noticed and appreciated.
Many schools also use digital kiosks to spread the word about upcoming teacher training sessions and webinars, tips and tricks for teaching/classroom management, and new curriculum information.

How Digital Signs Are Used to Communicate with Students
By the time a child reaches the age when they are going to start school, they are already experts at communicating in the digital age. Because of that, students have a different kind of relationship with technology and social media than their teachers and parents.
When using digital signage to engage with them, many schools either replace or support other methods of conveying the same information. This can include fire drill information, morning announcements, or other information the entire school needs to know. When it comes to the success or failure of the messages on the digital signage display stands depends a lot on how the messages influence how a student feels. The messages should make the students feel informed and like they are part of a community, and that their needs are important to the school administration. The messages should also motivate and support the students in their journey through their educational process.
How Digital Signs Are Used to Communicate with Parents
Parents today are very busy. The chances are good that they do not spend a lot of time at the school itself. They may use social media for a number of things but many are not as interested in hearing about school events through these channels. Many parents report that they prefer to get information in more of a "push" manner. That is, they expect information that is pertinent to them to be collected and then shared without them having to do a lot to sift through it.
For parents, using the digital signage in front of an in the school to showcase what is going on around the school district, what resources are available for their kids, and what events are happening around the area. They also want to learn about ways they can measure their child' performance and progress. Many parents like to learn about what the school's plans are for emergencies.
When the school hosts sporting, music, theatre, and other events, the best way to spread the word is to display the pertinent information on the school's digital signage. Also, listing practice and meeting times for clubs and teams this way can be a great way to remind parents of these things. Also, these signs are perfect for telling the community about awards, prizes, and honors.
Some schools like to showcase the work they do in the community. They advertise charity work done by students, alumni success stories, and reached fundraising goals. This helps to remind them how the schools work within the greater community. You would be hard pressed to find a parent not happy when they see their child's name on the school's front sign.
Most people today understand the important role digital signage has in communications overall. They can effectively get information out to a number of different audiences that have their own sets of priorities and ways they like to get information.
Digital signs can be more effective than other kinds of signage because the messages can be changed as often as needed.