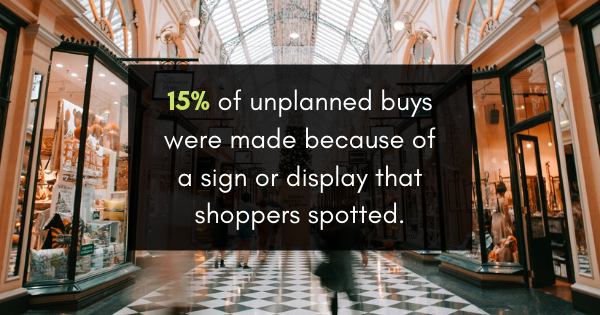 If you own a business or are looking to promote a specific product, you may be wondering whether or not it is worth investing in signage for your space. Between glass signs, display racks, digital towers, metal display signs, and more, there are countless options out there, but is it really worth the extra work and expense?
The truth is, custom retail displays can actually make a big impact on your sales, as well as enhance the customer's overall experience, which will encourage them to come back again in the future. With around six to 10 purchases in a store being categorized as an impulse buy, you can bet that appropriate displays can make an impact.
Check out more ways flyer stands, poster easels, and contemporary glass signs and signage can help your store sell more by reading up below.
Encouraging Unplanned Purchases
A well-worded or uniquely displayed sign can catch a customer's eye in a hurry and, if they read something that intrigues them, they may just leave your store with an extra purchase or two.
In fact, there have been a number of studies that show merchandise with signs significantly outsells merchandise without a sign. Along with this, a Mass Merchant Study done in 2014 showed that over 15% of unplanned buys were made because of a sign or display that shoppers spotted.
If you want to show customers what you have to offer, then the time to invest in better signage is now.
Drawing People In
Hoping to draw a wider customer base to your business? Signs can help with that, too. Many people would have never heard of a place without good advertising done by the business owner. By putting yourself out there, you let people know you are open and ready to serve their needs. You will be amazed at how many people are drawn in by just one or two strategically placed signs.
Providing Useful Information
In the end, a clever sign can draw a customer in, but you want to ensure you are displaying useful and honest information, as well. Signs that try to trick people or displays that falsely advertise a product will only make your business look bad and leave you with an unsatisfied customer base. All in all, it is not worth it, and you will likely lose more than you gain.
Need Some Help?
Not sure where to start with your signage needs? Glass signs are popular in today's market, as are digital kiosks and towers, but these are just a few of the countless options out there. When you work with our team, we can set you up right with a display that works well with your current goals and overall aesthetic. Contact us today to get started.