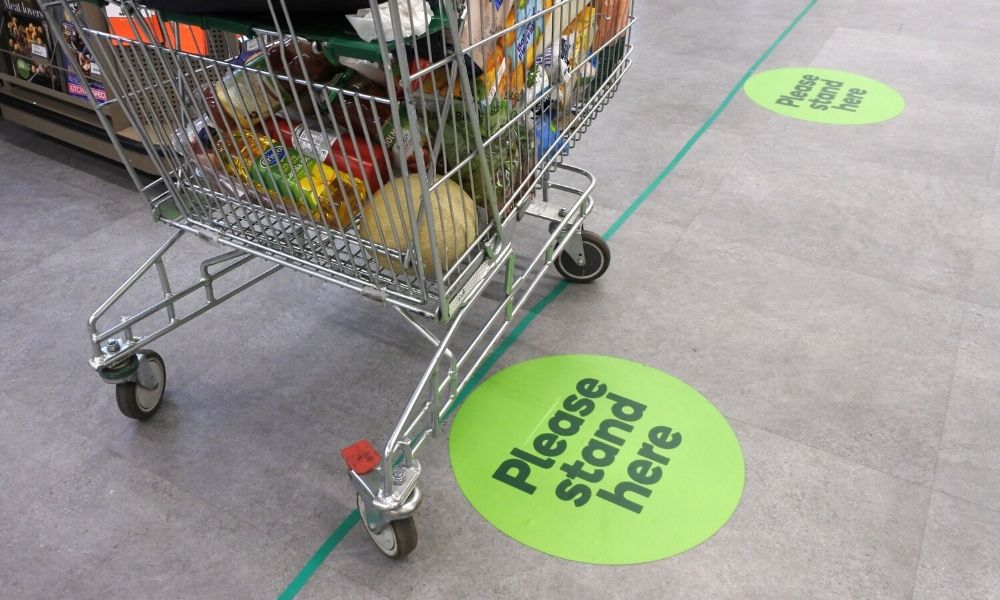 Retail stores are designed with the customer in mind. The shopping experience should be fun, easy to navigate, and keep the customer informed. Customers appreciate a retail shopping experience designed for them. It shows that the company truly cares about their clientele and is intentional with their experience curation. Signage can play a big role in the experience a customer has in your store. There is a lot of pressure in retail to advertise and encourage additional impulse purchases, as those types of purchases are regularly the main source of profits for retail businesses. This can often be overdone or too transparent, deterring customers and losing their trust. If you own a retail store and are looking to improve your impulse sales and overall customer shopping experience without coming off as pushy and salesy, which is typically an undesirable quality in a retail shop, then consider the internal and careful use of signage. Signage can help customers navigate a store, understand pricing, learn about your business, stay up-to-date on sales, and much more. Learn about the most important signage types for retail stores so you invest in the essentials first.
Health and safety signs
With the current pandemic going on, health and safety have a new focus in retail and other public spaces. The new era of safety conscientiousness is here to stay, so investing in signs to emphasize health and safety recommendations and guidelines is essential. Customers want to feel like you care about their health and safety in your store, as well as the health and safety of your employees. Investing in social distancing signs, one-way aisle floor stickers, and other signage to help people stay safe is a great idea for the current climate and the changing norms moving forward after the crisis calms down.
Digital signage displays
In the new age of technology, most shoppers will expect digital signage to dominate your stores. These are great options because they help you to update information constantly, display multiple different signs at once, and communicate with customers in real time. They are also beneficial for customers because they make the shopping experience more convenient, keep them informed, and give a sense of modern technology in a retail space. Digital signage displays keep your retail store relevant and updated in an ever-evolving world.
Interactive kiosks
Interactive kiosks bring digital displays to the next level. These are perfect for increasing customer engagement within your store. Increased customer engagement often leads to more brand loyalty and a stronger connection between the customer and your brand personality. Interactive kiosks allow customers to take part in the signage process, making them feel more accomplished and included. They can help customers locate and order items, and learn about your store on their own terms. This frees up your employees for other activities and allows customers immediate access to information at their fingertips.
Floor signs
Floor signs are pre-made signs in attractive metal retail sign holders which can inform customers of an array of pieces of information. Many retail stores choose to use these types of signs for informing customers of sales, promotions, and highlighted products. Floor signs should be strategically placed to ensure the target consumer sees and reads it. It shouldn't have an overload of information on it, but rather a small amount of essential information. A great example of this is a sale price, a BOGO special, or an announcement of a new product.
Price tag signs
Price tag signs are one of the most essential signs of retail space. These are the most beneficial forms of signs for customers. Customers want to know how much money they are paying for an item prior to arriving at the register. Surprises when it comes to price are not appreciated by any demographic of consumers. Price tag signs simply inform the customer of the exact amount the product costs so they can prepare for the total amount when they go to check out with their items. As a bonus, it puts more trust in your shop by customers as they see your transparency and willingness to inform them about costs.
Wall-mounted signs
Wall-mounted signs are extremely useful tools in the world of store navigation. Nothing is quite as frustrating as wandering around a store searching for one little section. Customers want to be able to easily navigate your store. Adding wall-mounted directional signs detailing where each section is, where checkout counters are, where returns can be made, and where customer services are available can make the shopping experience much more pleasant and reduce frustration in customers. These are also very easy to update if you ever switch where merchandise is kept.
Merchandising strips
Merchandising strips help you to save shelf space while advertising smaller items. These simply hang on your existing retail shelving space and hold smaller products. They help communicate which products might help them with relevant other items in the aisle. The key to properly using merchandising strips to enhance the retail shopping experience for your customers is to hang only products relevant to the aisle on them. This makes the customer feel like their experience is catered to their preferences and needs, which in turn builds trust and brand loyalty.
No matter what signage types for retail stores you decide to invest in, ensure you make the information with the consumer in mind. Consider what the shopping experience is currently like for your typical customer and identify what information might be lacking that could improve their shopping experience. When you decide to advertise a new product or push a product that's falling behind in expected sales, be sure to use a softer advertising method such as a larger sign than normally used, a sale price tag highlight, or a directional sign helping your shoppers find the items. Signage can only help your business stay booming even during tougher retail seasons. Check out our vast selection of retail-centric signs at The Global Display Solution. We aim to find you the best sign holders for your business to help you make the improvements you aspire for. Signs help to enhance the shopping experience while benefiting your business and the consumer at the same time, making them a wise and lasting investment for your company.