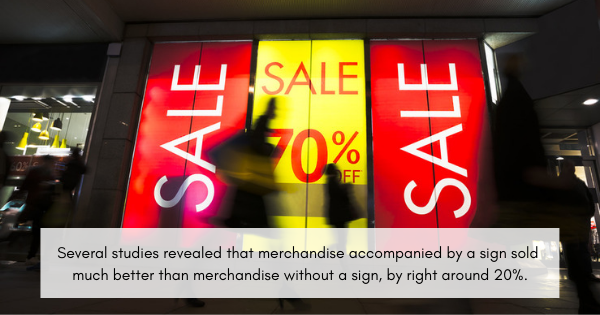 Did you know that several studies revealed that merchandise accompanied by a sign sold much better than merchandise without a sign? In fact, the better promoted products outsold the others by right around 20%, significantly impacting the sales of the business.


If you have a product you need to sell, one thing is for certain -- signage can make a huge impact on how much goes out the door. Between clear window decals, digital display stands, glass signs, custom vinyl door decals, and more, there are countless options when it comes to creating custom retail displays for your products.


Now, if you are having a sale or promotion, then it is especially important to get the word out and show customers what exactly it is you have to offer. Consider these tips to get your products off the shelves and into homes throughout your area right away.
Making Your Sign Stand Out

So, how can you make your custom retail displays stand out amongst the nearly 3,000 ads and promotions that people are exposed to on a daily basis? Well, first of all, make sure they are easy to read and understand. No one will buy your product if they cannot figure out what it is. Along with this, no one wants to invest in a deal if the wording is hard to comprehend. Be clear and honest about what you are offering. The customer will appreciate it.


That being said, it is good to have fun with your custom retail displays and to incorporate unique parts of yourself and your business into it. After all, you want them to know and remember your company for the long haul. Put in aspects that highlight who you are and what your business stands for.


You will also want to incorporate something that will catch the consumer's eye. Creative retail display ideas can go a long way and, if a passerby cannot help but turn their head and check out what a certain sign has to say, they are much more likely to purchase the product down the road.
Have More Information to Share?

If you cannot fit everything you want to say about your goods in one simple sign, then consider putting a pamphlet holder behind the sign that contains more information about the merchandise. If customers are drawn in by the interesting sign, they will likely want to grab a pamphlet containing more resources to browse later on.


All in all, it is about finding the right fit for your preferences. Maybe digital kiosks strike your fancy or perhaps outdoor metal sign stands are more appropriate for your setup. No matter what it is you need, our qualified crew can help. Depend on The Global Display Solution for it all.