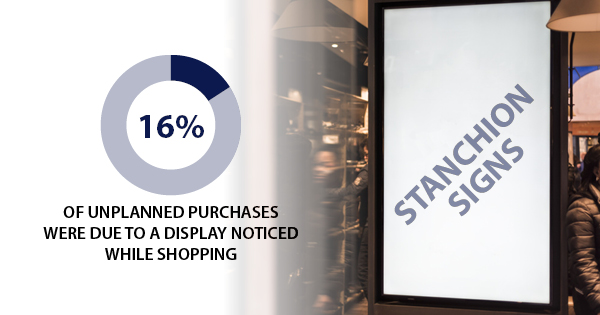 Although shoppers will use their smartphones to do research on a product, 77% of consumers will go to a store to shop. This makes it more important than ever for retailers across the board to create and foster a space that's conducive to sales. Custom retail displays come in many shapes and sizes, but it's important to stay practical in your marketing efforts as well. Part of this means making sure your store's signs are distributed properly and efficiently. Investing in 22 x 28 stanchion sign holders and stanchion equipment, in general, is a great way to keep your retailer's checkout area organized while communicating other essential store info. Here's what you need to know about stanchions and 22 x 28 stanchion sign holders.
Professionalism

Stanchions and 22 x 28 stanchion sign holders make any retail business appear to be more professional, particularly in the check out area. If your store has multiple checkout lines, they can be easily separated and labeled using stanchions and their sign holders. This not only prevents customers from getting confused about their position in the queue, but it creates an illusion that makes many customers think that the line is moving faster or is more efficient.


Impulse Purchase Potential

Between six and 10 purchases in a store can be classified as impulse purchases, and what better place to display impulse items than near your store's checkout? According to a 2014 Mass Merchant Study, 16% of unplanned purchases were due to a display noticed while shopping, and when displayed creatively and visibly, 22 x 28 stanchion sign holders are the perfect way to advertise the merchandise you're looking to push as an impulse purchase -- an item that a customer picks up right before they pay for their purchases.


Versatility

Stanchions and their sign holders can be used in a wide variety of ways, all of which are conducive to store sales. They can also be placed at the entrance of your store to increase visibility before customers walk in. There are countless ways to be creative and take advantage of all that stanchions and 22 x 28 stanchion sign holders have to offer.


Ultimately, several studies, including one from Brigham Young University showed that merchandise with a sign outsold merchandise without a sign by 20%. And knowing how to maximize the sales potential associated with your retail space is the best way to grow your business. For more information about creative retail display ideas, contact The Global Display Solution.